Tims Mother's Day Activation
In honor of moms everywhere who put their children first day after day —even if it means always getting last pick from the donut box— We decided to roll out Disguise Donut Boxes during Mother's Day Weekend.

The boxes look like boring old books, but when you lift the lid, moms would find a secret stash of six fresh donuts. We wanted to give moms their own opportunity to enjoy fresh Tims donuts all for themselves! It's just one day a year.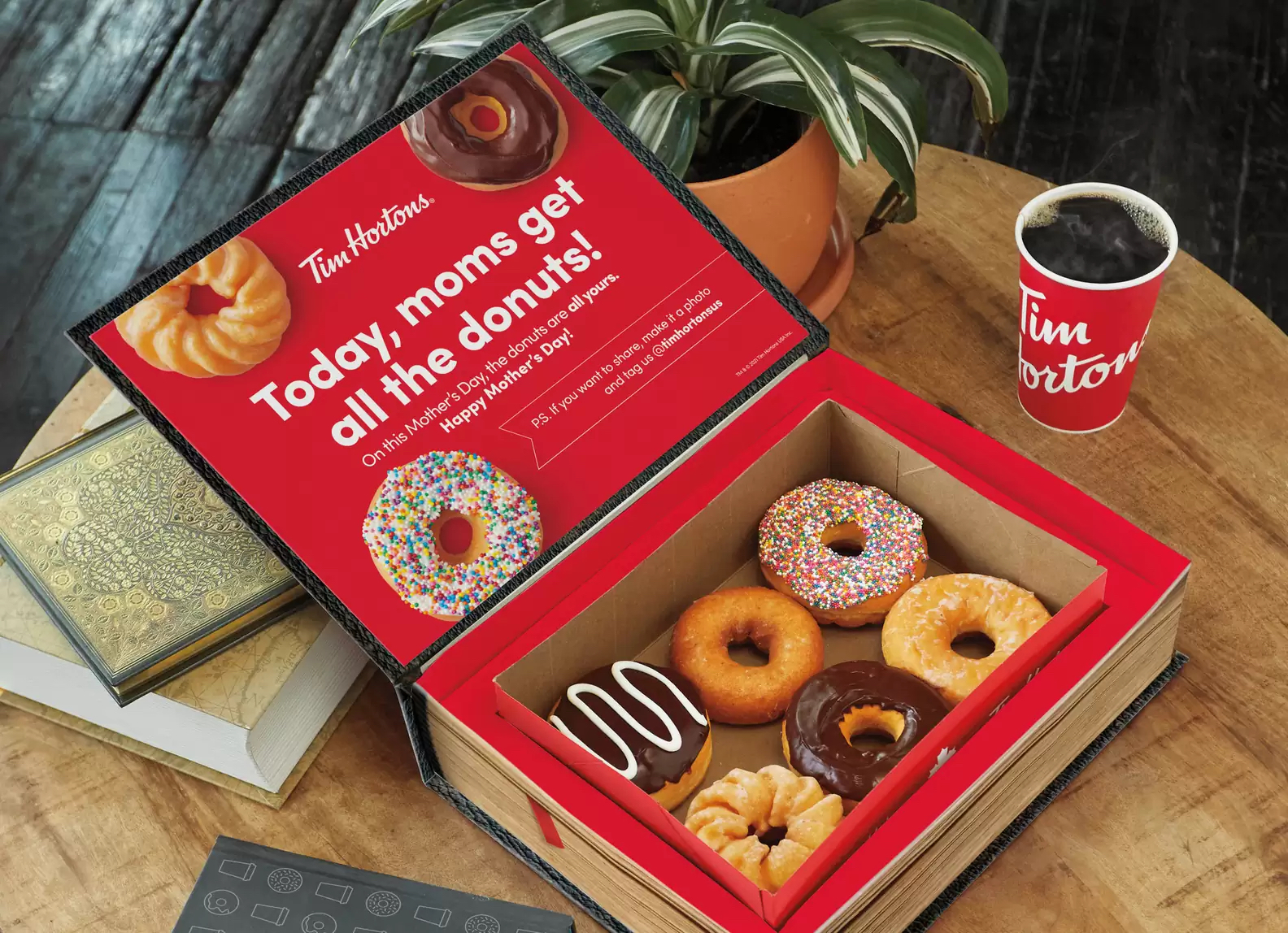 ---
Tims safety protocols
Client: Tim Hortons Canada
Agency: 500 degrees
In-store signage


During the pandemic, Tim Hortons had the need to create signage to put its customers at ease while being informative around the stores.

We created some ambiance posters to set a friendlier tone during such difficult times.
The floor decal became a big thing when a user on TikTok decided to actually buy a few boxes of Timbits and measure the distance himself.
Here's an article on Narcity
and several other websites covered the news as well.
---
DuPont Corian Sales Package
DuPont Corian was in need to offer some sample options for one of its biggest clients, McDonald's restaurants. They needed to speed up the process of allowing franchisees to choose colours for their restaurants. I decided to create this custom package in which we built a little 'burger' made of Corian Samples. The sales tactic was very successful as it allowed Corian to move their product faster than anticipated.
---
Client: Dupont Corian
Agency: Sixsense Creative
Social Media Campaign / XM
Corian opened for the first time ever a pop-up studio downtown Toronto at Design Exchange.

Targeting millennial architects we created visuals for their social media showing little 'worlds' that are can't be replicated in the real world. We wanted to show that if you have the power to imagine something it can be created with Corian.

We designed the pop-up to be a space with giant sized building cubes made of Corian that people could play with and re-arrange at their leisure.
---
Thank you